Welcome!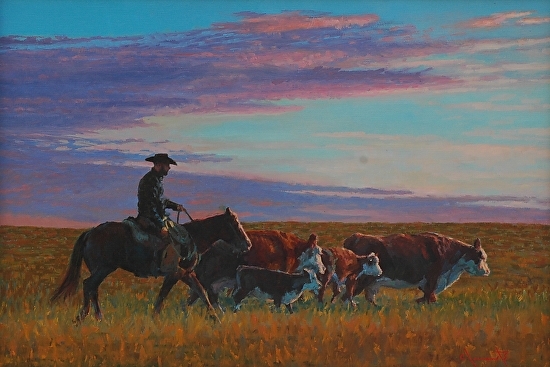 "Clements' rich deep color palette and masterful use of light combine to bring sensitive and provocative paintings to life. A strong sense of nostalgia is invoked in both his beautiful figurative work and his intriguing 'Out West' series."
Informedcollector.com
"A true master painter of the American West"
Michael Martin Murphey, singer ("Wildfire", "What's Forever For", "Long Line of Love")
"These are beautiful paintings!"
William Smith, actor (Any Which Way You Can, Red Dawn, Conan the Barbarian)
"You truly do magnificent paintings...I could spend hours viewing your work."
Ed Faulkner, actor (McClintock, Rio Lobo, The Green Berets)

"Your work is just excellent; I get so many compliments on my painting"
Robert Fuller, actor (Laramie, Wagon Train, Emergency)
"Thank you so much for your beautiful painting of the forgotten "cowboy"...the black cowboys and cowgirls. As a black cowboy myself, I been to many rodeos and art shows during my 65 years on this earth...seldom do I see painting of the black cowboys/cowgirls...Please keep up the good painting, and thank you so much. May God bless you".
Sheldon Forehand
"I've just discovered your artwork. Its phenomenal! I just wanted to say thank you for capturing the beauty of Native Americans and our cultures."
In Spirit, John Lone Eagle
UPCOMING SHOWS
17th annual Echoes of the Trail Cowboy Gathering , June 7th - 9th, at Fort Scott, KS. RFD-TV's Best of America by Horseback is partnering with Echoes and is holding a trail ride and co-sponsoring a Cowboy poetry/western music contest. The show starts at 5:30 Friday evening, then goes from 10 am to 5 pm and 7:30 to 9:30 pm Saturday. Cowboy Church is Sunday at 9 am, then a chuckwagon breakfast. I'm looking forward to this new event!
I will have work in the "Art on the Salt Fork" exhibit and sale at the Graceful Arts Gallery in Alva, Oklahoma at 523 Barnes Street during the month of June. Don't miss their First Friday Art Walk on June 7th!
Western Artists of America miniature show at the Western Hertitage Center Museum in Billings, Montana. This show runs for 6 weeks, starting July 13. I will have 5 paintings in this show. It will be promoted in Western Art Collector Magazine.
ArtFest MidWest "The Other Art Show" - I am happy to be participating for a third year in this show in Des Moines, Iowa on June 29 and 30 at the Iowa State Fairgrounds. It is held in the Varied Industries Building just inside the main gate. Hope to see you there!
The West Lives On Gallery in Jackson, Wyoming- I will be visiting this gallery around July 4th. I'm honored to be represented by them and look forward to my annual visit and doing some plein aire painting in the Grand Tetons.
Ruidoso Art Festival, July 26 through 28. I will be returning for a secnd year to this terrific show. It is held at the Ruidoso Convention Center, 111 Sierra Blanca Drive in Ruidoso, New Mexico.
Mead Street Gallery in Wichita, Kansas. I've been asked to be the featured artist at this fine gallery from the end of September through October. I plan to have 8 to 12 new painting to display.
I am collaborating once again with my friend, singer/songwriter Rusty Rierson for a new video we hope to have done in time to add to the next printing of the DVD supplement to his Nashville produced hit album "Souvenirs". I will include the link on my newsletter once we have it finished. It will be set to his song "Let's Ride Some Horses".
There will be new shows added for August and September, so keep watching for updates!
A Great Cause

I'm happy to support Hope in the Valley Equine Rescue and Sanctuary, Inc. in Valley Center, Kansas. The founder, Ande Miller, is a true angel among us. She was moved to rescue a horribly malnourished horse at a livestock sale in 2005 from certain destiny to a slaughterhouse. Learn more about him and this 501(c)3 organization at http://www.hopeinthevalleyequinerescue.org/. Their cause expanded and they now average around 35 horses that have been abandoned, neglected, or abused. In some cases the owner has died. They work to rehabilitate these horses if needed with training and proper diet and adopt them to caring owners. To help in my own small way, I am painting 5"x7" portraits of these rescue horses to take with me to various shows. 100% of proceeds from the sale of these paintings will go to Hope in the Valley.


If you have any questions please call me 316-655-1248 or email jimclementsart@cox.net


Thank you for stopping by my website. I hope you enjoy the paintings I have posted here.